Tornado of Life: A Doctor's Journey Through Constraints and Creativity in the ER
Coming soon, Fall 2022 from MIT Press. Pre-order now!!
To be an emergency room doctor is to be a professional listener to stories. Each patient presents a story; finding the heart of that story is the doctor's most critical task. More technology, more tests, and more data won't work if doctors get the story wrong. Empathy, creativity, and imagination are the cornerstones of clinical care.
In Tornado of Life, ER physician Jay Baruch offers a series of short, powerful, and affecting essays that capture the stories of ER patients in all their complexity and messiness.
Patients come to the ER with lives troubled by scales of misfortune that have little to do with disease or injury. ER doctors must be problem-finders before they are problem-solvers.
Cheryl, for example, whose story is a chaos narrative of "and this happened, and then that happened, and then, and then and then and then," tells Baruch "I'm stuck in a tornado of life." What will help her, and and what will help Mr. K., who seems like a textbook case of post-combat PTSD but turns out not to be?
Baruch describes, among other things, the emergency of loneliness (invoking Chekhov, another doctor-writer); his own (frightening) experience as a patient; the patient who demanded a hug; and emergency medicine during COVID-19. These stories often end without closure or solutions. The patients are discharged into the world. But if they're lucky, the doctor has listened to their stories as well as treated them.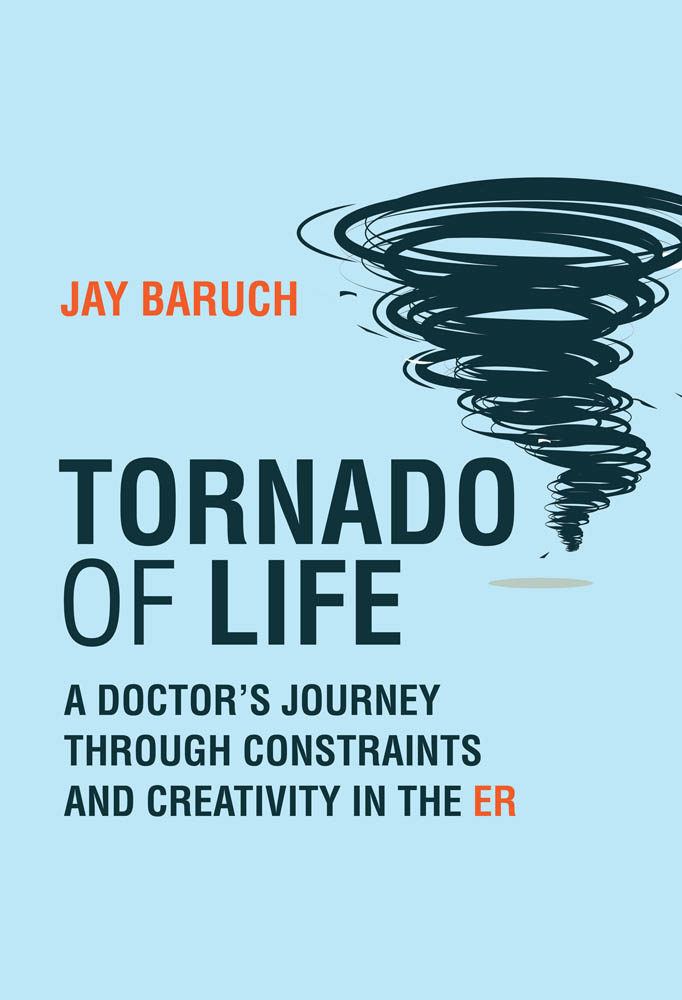 What's Left Out
ForeWord Reviews 2015 INDIEFAB Book of the Year Bronze Award for Short Fiction.
In this book, my short fiction took detours into the surreal, though I believe healthcare has become surreal on its own without any help from fiction writers.
"With imagination and an eye for detail, writer and physician Jay Baruch takes readers on an unsparing ride through the strange landscape of contemporary health care to experience the bizarre, ignored, or misunderstood challenges facing healers and the ill. In this collection of short stories, communities shoulder unrelenting burdens, optimism is held with caution, and people ration their dreams and their sanity. Baruch's vivid storytelling captures the emotionally fraught and absurd challenges he has faced during his twenty years as an emergency physician. The stories in What's Left Out ask readers to take risks, to make leaps into unfamiliar territory, and, like the larger health care enterprise, to develop comfort and trust in the untraditional and unexpected."
"Too often stories of patients and doctors are reduced to good guys and bad guys. In this varied and imaginative collection, Jay Baruch offers a more complex, accurate, and fully human view of modern health care and the people whose lives are changed by it."—Louise Aronson, author of A History of the Present Illness and Associate Professor at the University of California, San Francisco
Find on Amazon
Fourteen Stories
"Jay Baruch has long been fascinated by how illness can make people strangers to their own bodies, how we all struggle to maintain control as the body decays and life slowly becomes unrecognizable, and how health professionals discover and struggle with the limits of their own competence and compassion."
ForeWord Magazine 2007 Book of the Year Honorable Mention in the Short Story category
"Plunging into one of Jay Baruch's stories is like finding yourself in a busy Emergency Room at two in the morning—here you will meet characters whose lives are urgent and not always what they seem on the surface. Like his characters, Baruch's writing is vibrant and intense, and his vision is prismatic. He speaks in many voices, among them doctor, patient, family member, medical student, and even ER janitor, and so examines the world of health and illness from many points of view. I appreciate the way Baruch acknowledges the complexity of life, and then dissects it for us into so many planes of action and consequence.
--Cortney Davis, author of I Knew a Woman: Four Women Patients and Their Female Caregiver and Leopold's Maneuvers.
Find on Amazon